Elodia De La Garza
Premier Banking Director
33 years with Vantage Bank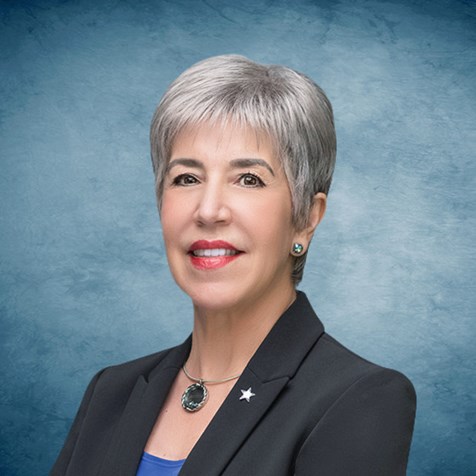 Role at Vantage Bank
My role is not to be served, but be of service to everyone! As a leader in my area, I believe it's important to be supportive with each other in the good and bad moments, as this will enable us to achieve success as a united team and share the overall success of our institution. I've learned to be patient & open-minded, accepting changes when they do happen, seeing them as challenges and not obstacles but new opportunities, all while keeping a positive attitude. I've always taken pride in representing Vantage Bank as an organization that values its people that they employ with integrity. Vantage Bank is committed to supporting our communities and is here to stay!
Business Leadership
My experience in service to others gave me the opportunity to start my career in banking 35 years ago. I've made it lifelong career, not a job, but also my family away from home. To date, every day that I come in feels like my first day ready to enjoy. My expertise is in personalized frontline customer service & products; personal & commercial accounts; setting up appointments, meeting with potential, new & existing customers one-on-one, via phone and/or emails. We know that banking now-a-days presents a challenge since customers have many options as they shop for a bank(s) which offer the same services and products. However, what or how are we different is that we tend to customers on a one-on-one basis, we're honest and sincere when we're with them face-to-face or via phone, and/or email. Our goals are to establish a long-lasting relationship(s) (not just accounts), this is our Vantage Bank mission!
Community
My people, our people, are always ready to extend a helping hand to their neighbors at any given time or any situation that arises!
Community Service
I have been involved in the following:
-Our Lady Of Perpetual Help Catholic Church - Volunteer
-Faith Formation Elementary - Teacher (23 years)
-Serra Club of McAllen (worldwide organization that promotes and fosters vocations to the ministerial priesthood and consecrated religious life in the Catholic Church - Club Treasurer (6 years)
Hobbies & Interests
I love taking weekend road trips with my husband of 32 years and visiting our 2 married children in San Antonio to spend time with our growing family: 3 beautiful granddaughters now. My interests, at heart, have always taken me to volunteer my free time in any way that I may, especially with young children, giving back thru the United Way back to school events, and at our home parish/church OLPH. It's very rewarding and fulfilling when you give back to your community/neighbors paying it forward for all the blessings received!
Contact Me About
I'm Senior Vice President - Premier Banking Director in our area. I specialize in personalized frontline services and products; informing, advising and servicing customers in their needs/wants with opening personal or commercial accounts and/or adding to their existing relationship at Vantage Bank, to obtain and establish new clients/customers, fostering new relationships and to retain existing relationships with our longtime customers of more than 32+ years and to promote Vantage Bank as an excellent institution to bank with.